This topic has been talked about; and discussed; and debated; and at this point it's probably like beating a dead horse on Weddingbee, but guess what? I'm adding my two cents. I made the choice to take on Mr. W's last name when we jumped the broom in April! No moving my last name to my middle, didn't think about our future kids, nothing. I just did.
People asked was I going to miss my old name, and I would tell them "heck no!" and I would get this reaction: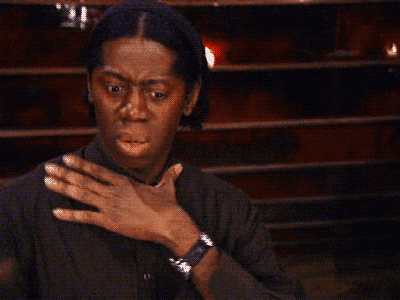 GIF via Giphy
The main reason for my choice in the name-change department is due to the fact that while my maiden name is not common (mainly because of the spelling), unfortunately I have found three other people thanks to the magical powers of Google and Facebook that share my name. Have you Googled your name before? Sometimes the people you share a name with isn't a good look. There's a woman in Texas (whose crimes I'd rather not expose) who I just couldn't wait to stop being namesakes with. I always had this strange fear that when I went to job interviews or something like that, I would be stuck in the middle of some weird mistaken identity case and they would smack down this woman's rap sheet on the table and tell me to get the hell out of their office. I know it's super ridiculous, but sometimes I think the dumbest thoughts.