It often feels like Mr. Narwhal and I share the same brain. While we have our own interests, we do have a lot of things in common, and often find ourselves saying things like "I was just thinking that!" or writing the same answers when playing games.
One of the things about Mr. Narwhal and me that we don't share in common? Our sentiments on planning ahead. He has a go-with-the-flow attitude about life, and I like to make lists, spend money on Erin Condren planners, and, yes, create a secret wedding Pinterest account three months after we started dating.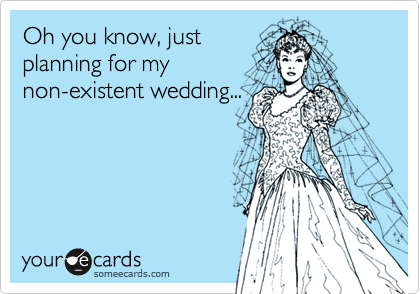 Pinterest changed the waiting game. / Image via someecard
I like to plan things*. I just do. I have in fact been planning my wedding since I can remember. I was made for this stage of my life. While I did heavily consider the idea of eloping for quite some time (more on that another day), a lot of my excitement leading up to engagement and wedding planning was the planning part.