When it comes to jewelry, I go for necklaces. Big, unusual, show-stopper necklaces. In my rather unfashionable world, they are my only fashion statements. But rings…no thanks. Not my thing.
Mr. Puffer and I spent a lot of time discussing marriage and weddings before we were engaged. In July, he gave me a promise ring and told me an engagement ring would follow later that year. That's when I offered—no, demanded—to split the cost of the engagement ring. After all, I'd be the one wearing it.
His answer?
Ah, my beloved groomzilla, roaring even before we were engaged / GIF via Giphy
When it comes to many wedding-related things, including the engagement ring, Mr. Puffer is a traditionalist. To him, the ring was both promise and gift. I was not to pay for the ring. I was not to see the ring before his proposal. I was to receive the ring at the time and place of his choosing. End of story.
But then he threw a curve ball at me: "You'll get to pick the stone, though."
Um, what now?
Here's the story: Over the years, his parents have put together a rather sizable collection of inherited jewelry. When Puff's brother, T, decided it was time to propose to S, his now-wife, his parents invited the couple over to their house. They pulled out the jewelry collection and let S pick a diamond to serve as the center stone of her engagement ring. Then T worked with his parents' jeweler to have the diamond placed into a new setting. S didn't see the final ring until T proposed.
"So in a few weeks," Mr. Puffer told me, "we'll go over to my parents' and you'll pick out your stone." Then he shot me a look. "But I've already seen the jewelry, and I know which diamond I want you to pick."
"OK…" I was feeling a little overwhelmed. I'd never heard of anyone getting to pick a stone before.
"It's big."
"I don't need big," I told him.
He ignored me. "I can't wait for you to see this rock."
A few days later, and he still hadn't shut up about the diamond. "It's your choice, of course, but I really want you to pick the one I like."
Then this: "I'm going to be really disappointed if you don't choose my favorite."
Until finally, this: "I changed my mind," he told me one night. "You don't get to pick. I'm picking the one I like."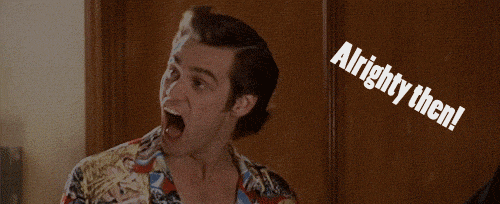 Do I date myself with this GIF? / GIF via Giphy
Months passed, and the day finally arrived: October 20, 2014. Proposal day. Mr. Puffer asked, I said yes, and he slipped the ring on my finger. He was right: I probably wouldn't have picked his diamond, favoring a smaller stone instead. But the ring is antique, gorgeous, and very me.
Showing the diamond in its filigree basket setting
The specs: 1.93 carat in an antique filigree setting. (It was originally an earring. Yes, there were two of them, although the mate has been lost to time. Can you imagine having nearly four carats in diamonds on your ears?) The jeweler suggested keeping the antique look by remounting the setting on a new platinum band. He hand-engraved the band to continue the overall antique look. The result: a completely unique ring with a lot of history.
The hand-engraved band
I've received some…interesting comments since I've been wearing the ring. I've been asked if it's fake, how much it's worth, and why I would make my fiancé spend so much. (He spent nothing. His parents' wedding gift to us is the jeweler's fees for the engagement ring and our two wedding bands, which are also family heirlooms.) It's a little embarrassing to hear negative comments about a ring I love so much.
And I love it not because it has a large diamond. I love it because Mr. Puffer's family deems me worthy of such a precious heirloom. I love it because whenever I look at it, I remember that wonderful October morning when he gave it to me. And I love it because it is the first physical representation of the lifelong commitment we're making to one another in a few months.
For me, it's about the ring, not the bling.
Personal photo
Although I do like to see it sparkle in sunlight.