I'm 38. He's 44. We'll each be saying "I do" for the first time in November. Why it took so long for us to find each other, I have no idea. But once we did, we jumped into our relationship feet first, with no regrets.
I'll never forget the first time I (sort of) told Mr. Puffer I loved him. We were at a pizza joint not far from my apartment, grabbing a quick bite before we were to meet my brother and his boyfriend at a local haunted house. (If you're ever near Phoenixville, Pennsylvania in September/October, and you like being scared out of your wits, check out the Pennhurst Asylum. It's rockin'.)
What we were discussing escapes me right now, but I remember we were dancing around the whole "do we have a future" topic. Finally, I think I said something around the lines of, "I could see a future with you." And when he pressed me for more details, I'm pretty sure I added, "I think I'm falling in love with you."
His response: "Wow."
Ouch.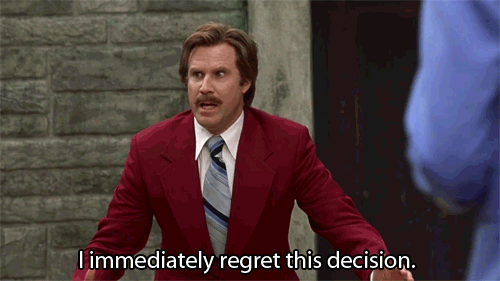 GIF via ReactionGIFs

Saying "I love you" for the first time is one of the scariest things we poor humans ever do. It certainly scared me more than any of the ghosts and ghouls at the haunted house did. And I kicked myself when I said it to him, a short three months into our relationship, when he obviously wasn't ready to say it back.
But he was—and a week later, he told me outright that he loved me. After that, I promised to never regret being open and honest with him.
Fast forward to the following July, as we were celebrating the one-year anniversary of our first date. He had thrown a surprise party for me, and the next day we exchanged gifts. I had begun to clean up, thinking our little celebration was over, when he handed me a small box. A ring box, to be precise.
Selfie from our first anniversary
Now I knew marriage was in the works. We'd talked about marriage for months and knew we were headed in that direction. But did I think a proposal would happen on our couch, surrounded by wrapping paper and balloons from the previous night's party? Nope.
My heart was in my throat when I opened the box and saw…two rings. Huh?
Mr. Puffer was pale and nervous, his expression dead serious as he took my hand. "These are promise rings," he explained quickly as I looked from the rings to him and back to the rings. "I'm not proposing today—or during the summer. You hate summer."
I'm a sweater. I do hate summer. I nodded, motioned for him to continue.
"These rings are a promise," he explained, "that I want to marry you, and that I will propose before the end of the year."
I'm not an overly sentimental person, but I'm pretty sure I cried over that one.
Ring 1: A family heirloom he gave me with his parents' permission
It took a few days of wearing the rings (and explaining to friends and coworkers that the one on my left ring finger was NOT an engagement ring) for it to sink in that my engagement was coming in the near future. I was surprised at the excitement I felt, especially considering I never thought I'd get married.
It's funny how all it takes is one great guy to change your feelings on marriage.
Ring 2: Amethyst, my birth stone