The Buzz is a Weddingbee series created by the hive, for the hive! Each week or so, we'll head to the boards and ask a series of three questions""one geared toward pre-engaged, one toward engaged, and one for newlyweds. We'll look to you to quickly provide your expert advice, and compile a selection of great answers into blog posts. Learn more here, and contribute your ideas for future "Buzz" questions you'd like to see answered!

~~~
This time we wanted to know: What was your favorite nontraditional item you registered for?
You guys gave us some really clever, and some really hilarious responses. Here they are!
NowDontLetsBeSilly (wedding date: August 17, 2013)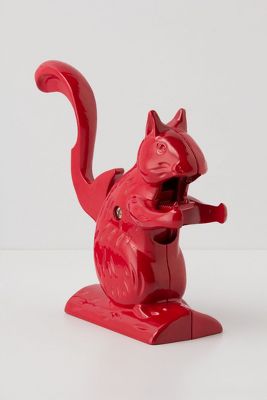 Pretty sure this guy needs no other explanation. He's adorable. And so completely unnecessary. But who needs china when you can have a squirrel nutcracker?
BeeRod527 (wedding date: August 16, 2014)
Anyone heard of Sodastream? It's odd considering we're not soda drinkers. However, it'll be cool to make soda for our house guests. I think we've registered for every flavor out there!
KCKnd2 (wedding date: September 29, 2012)
We got a yogurt maker, which has been *awesome.* Not that unusual—but not that traditional, either.
Mrs. Campfire (wedding date: September 7, 2013)
I love my Sodastream, so I definitely second that. I would have to say, though, my favorite "nontraditional" registry item is our hedgehog crumb brush from Crate&Barrel!
luluvohn (wedding date: June 7, 2014)
It's sort of traditional, but we're registering for a Roomba-type robot vacuum. I've always wanted one and this is our chance!
littlemisshostess (wedding date: October 5, 2013)
We registered for a blow-up air mattress…not totally out there but definitely not fine china. I also registered for a generator (I registered right after Hurricane Sandy, and man that would have come in handy), but no one got it for us!
Soon2BD-CBee (wedding date: April 13, 2014)
FI is going to ask for a Sheldon T-shirt folder.
Mrs. Mouse (wedding date: September 11, 2009)
We had a honeymoon registry, but a few of our friends got us off-registry gifts. Our favorite and the most unique was a coupon we got from the Dude's married college friends. The coupon was good for a landscape portrait made from one of our honeymoon photos. The card they gave us instructed us to mail our favorite honeymoon scenery photo to a woman, whom we had never met (the aunt of the Dude's friend who gave us the gift).
We went to Greece on our honeymoon and took tons of beautiful photos of the scenery. We ended up mailing the aunt a photo we took on the coast of Naxos, which included the famous Temple of Apollo. We framed it and it hangs in our guest bathroom today.
Mrs. Starfish (wedding date: October 2010)
We registered for a few holiday items, which some people commented on being a nontraditional thing to register for. My college roommate ended up buying all of the fall/Thanksgiving items for us because she knows how much I love the holidays. Even though we chose and registered for these items, it just felt like a more personal gift since she picked it and we used to go all out for the holidays in college. Every time I use the gifts at the holidays I think of her. I now wish we had registered for some Christmas items, too, but they were out of season at the time. I'd definitely recommend adding a few seasonal items if you are like me and love the holidays!
Mrs. Hermit Crab (wedding date: June 2010)
This is not so much an item as it is a set of items, but we found a local potter that we fell in love with and commissioned her to make a whole set of dishes and serving pieces for us. We created a registry with her so people could purchase the pieces through her, and now we have a totally unique set that I love!
This is an example of the set of serving bowls. Everything is handmade and varies slightly but all goes together.
Mrs. Wallaby (wedding date: November 2012)
Nobody tells you to register for roasting pans and turkey basters. But I stumbled across this dripless turkey baster, with three attachments, on the Williams-Sonoma website and decided immediately that it would make holiday turkey-making so much easier. So glad I did, because I love that baster now! One of my favorite kitchen gadgets.
lolot (wedding date: August 24, 2013)
Cards Against Humanity, the most vile and hilarious game that exists.
Mrs. Funnel Cake (wedding date: October 29, 2011)
Our Honeyfund! I don't care if asking for money is awkward…we really didn't want any physical gifts with the destination wedding, and I really enjoyed the idea that people would be buying us Mai Tais and snorkeling sessions!
firefliesinthesky (wedding date: August 10, 2013)
Picnic basket! I love going on picnics—it's just hiking up all of the things we need for one.
There was also the Roomba. That was one of those "I REALLY don't think anyone's going to spend that much money on us, but I'll put it on there just in case several people want to pool their money together for something big" type things. But ahh, it would have been so hilarious if one of my cats decided to ride it. I mean, I'm pretty sure this video is one of the best things on the internet (especially at :57 when it bumps into the fridge).
Zaraj_Will (wedding date: June 28, 2014)
We added some camping items, including a tent, and will add fishing poles and a campfire cooker. We used a registry website that allowed us to combine the registries from several stores and allowed us to put a "priority" so our guests know what items are most important to us.
~~~
Now tell us about YOUR favorite nontraditional registry items. Did this post give you any inspiration to add to your registry?