Hello, Beehive! I'm so happy and excited to be here and share my wedding-planning adventure with you all!
When I got my email from Mrs. Mouse, I was at work, giving our receptionist her break. I almost screamed with excitement, until I remembered I was sitting between three doors that anyone could walk through at any time. So, instead, I settled with a giddy expression and a few excited texts. I'm pretty sure I spent the entire break looking like this: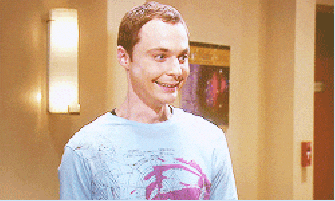 Photo credit: Giphy.com
So, who are the Geese?
I'm Miss Goose, arts administrator by day, wedding enthusiast by night, sock mismatcher always. Gander is in customer service, and has a love of Elvis Presley, hockey, and football. (Side note: Do not mention the Super Bowl to him—it's a sore spot right now.) We met three and a half years ago through a well known dating website, and have been practically inseparable ever since.
The first photo ever taken of the Geese / Personal photo
We're an easy-going couple, who love to try new restaurants we find on Groupon, traveling to Niagara Falls for short getaways, and relaxed nights with our favourite TV shows (HIMYM, anyone?). We're also the proud pet parents to our two-and-a-half-year-old cat, Elvis.
Elvis in his favourite spot / Personal photo
Now, why Miss Goose?
Being Canadian, the goose is our national bird and a proud symbol. Actually, it's all because of a random conversation. When I was waiting to hear about my application, I mentioned the available characters to my mom and Gander, and her reply was "You mean, I could be Mother Goose?" Once we saw the potential, I knew Goose had to be mine! Fun fact: As a child, Miss Goose was actually goosed by a real goose.
We're planning a traditional Canadian Reform Jewish wedding, with some Celtic influences, as well as some personal touches of our own. I hope you all enjoy seeing what's good for the Goose is good for the Gander.