Waterfall Proposal Story
Benjamin and I have been dating for more than a hot minute. At the time of our engagement, we had been together for four and a half years. This is the sort of thing that elicits "FINALLY!" from one's mother when one calls her with one's good news. But I'm getting ahead of myself.
Benjamin and I had long meant to travel to the Pacific Northwest for a vacation. I had never been to Oregon or Washington and had very romantic ideas about it—the forests, the organic food, the moose. Mooses. Meese? I'm going with moose. When our spring breaks aligned in 2015, we decided to bite the bullet (AKA fork over the cash) and headed out to Seattle and Portland.
I had to. | GIF via GIPHY
I'll admit, it occurred to me that this might be The Trip Where It Happens. Benjamin knew I was more than ready to be engaged, but I wanted the whole shebang and refused to press the issue further (or even mention it) for fear of ruining any plans he had. So, we went whale watching, tried out local breweries and restaurants, and took a day trip to the Willamette Valley for some wine tasting. We were having a wonderful time, but by our second to last day, I did think that I might once again be a Sad (Ring-less) Panda on the plane ride home. But what could I do?
Well, I completely forgot about it, that's what I did. I know it sounds like I'm lying—but on that last morning, a proposal truly didn't even cross my mind. Not when Benjamin insisted on driving to see a waterfall before we headed back to Seattle for a grand, fancy dinner. Not when we were standing, admiring the waterfall. Not as I started wandering back to the car, slightly hungover and ready to get on the road.
It was only when I turned around and saw that Benjamin was not following me, but standing there on the overlook with tears in his eyes, that I realized what was happening. I went back to him and gave him a kiss as he choked out, "I had a whole speech planned!" and got down on one knee. He asked me to marry him and I said that I would, and he put the ring on my finger just like in the movies.
As this scene was concluding, a man and his two sons were walking up to the overlook. I asked excitedly, "Would you take our picture? We just got engaged. Like, just now." And as the man took my phone he said, "Oh! Well, I just got divorced."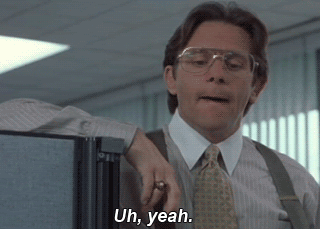 lol wut | GIF via gifrific
Anyway, we got the photo and went back to the car, and even after many years together, were deliriously happy. Being engaged was already so fun…and I would get to enjoy it for a full 20 months!
"It's about time!" — Another quote from Mother

My students love Divorced Guy—they think it's hilarious. Any other silly engagement stories out there?